On September 29, 2022, FusionCAT invites you to participate in the conference organized by the UPC – Barcelona East School of Engineering (EEBE) and Fusion for Energy (F4E), within the framework of the Energy Days, activities about renewables promoted by the EU.
This year, given the current situation both in the energy sector and the climate crisis, the conference takes a special focus. In recent years, much of the debate around energy has suffered a bias loaded with ideology. Meanwhile, the need for short-term solutions and the pressure of public opinion has been the driver of many solutions provided by politics.
But today it becomes clear that the answers to solve the problems must come from the scientists. The situation calls for a profound and open debate, that also needs to be objective and without concessions. A debate in which, undoubtedly, the role of the scientific world and the technical and technological world must be central.
Energy Days Barcelona and FusionCAT
In this context, Energy Days Barcelona organizes the conference For a Sustainable Energy. It is time for research, technical answers and action. A conference that will be held at the Diagonal-Besòs Campus of the UPC and that has the support and sponsorship, among others, of FusionCAT, the consortium that seeks to establish an active nuclear fusion community in Catalonia that includes leading research institutions, universities and industrial partners.
It is no coincidence that the Energy Days Barcelona are held at the Diagonal-Besòs Campus of the UPC. This Campus is a paradigmatic example of what a scientific nucleus should be in the fields of sustainability and energy. It has more than 40 research groups and, in the productivity rankings, the Barcelona East School of Engineering (EEBE) has established itself in a very short time as the second school in scientific productivity of the UPC. In addition, very close to this scientific center is the headquarters of Fusion for Energy (F4E), the only European Union agency located in Catalonia, responsible for one of the most ambitious scientific projects in the world: the construction of the ITER project, which works to demonstrate the viability of fusion power as a clean, abundant and safe source of energy.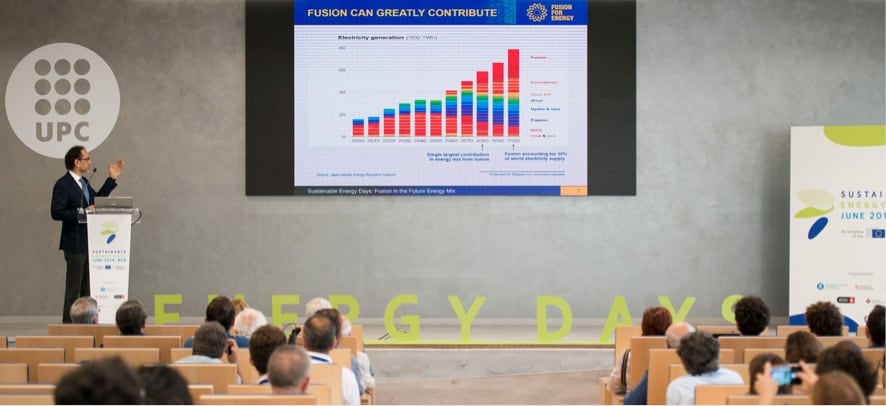 The conference will count with the participation of several national and international experts, including, among others, Nicola Armaroli, research director of the Italian National Research Council (CNR), Jesús Izquierdo, chief engineer of ITER (F4E), and Alvaro Luna, professor and researcher at the UPC Department of Electrical Engineering.
For more information and registration: https://energydaysbarcelona.eu/
You can also follow us on Twitter: @energy_days_bcn